Notre Dame Secondary College

Notre Dame Secondary College's reach covers the Reedy Swamp and forest area west to the Goulburn River bounded by Wheller Road and the powerlines in the south and Daldy Road in the north. This reach is shared with St Brendan's Primary School.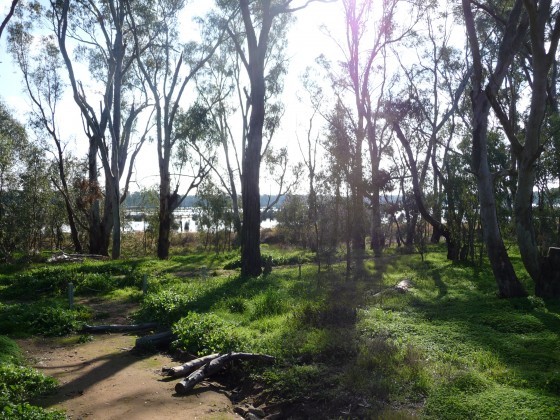 Notre Dame has a RiverConnect VCAL Program
Please note: Although this information kit is currently out of date, most information is still relevant. Updated kits are currently in development.
21 Mar
Posted 21 Mar 2016
Students from five local secondary schools took part in an environmental education day at Victoria Park Lake on Tuesday 22 March.
3 Aug
Posted 3 Aug 2015
RiverConnect held 28 school sessions since July this year with 10 different schools and 2 kinders. Seventeen of these sessions were tree planting during the cooler months.
1 Jul
Posted 1 Jul 2015
Ten schools have participated in tree planting sessions for National Tree Day this year.
17 Mar
Posted 17 Mar 2015
Students from Notre Dame College attended an Environmental Education Event at Victoria Park Lake on Wednesday 18 March.
21 Oct
Posted 21 Oct 2014
Secondary School students met at Victoria Park lake on Wednesday 22 October as part of National Water Week 2014
20 Jun
Posted 20 Jun 2014
This semester McGuire College, Shepparton High, Wanganui Park S.C, Notre Dame College and ASHE have participated in the RiverConnect VCAL program
30 Apr
Posted 30 Apr 2014
Secondary School students from Shepparton High, Notre Dame College, Berry Street and McGuire College attended an Environmental Education event organised by RiverConnect on 1 May.
22 Oct
Posted 22 Oct 2013
Students from Notre Dame College, Wanganui Park Secondary College and Shepparton Christian College attended a Water Week day at Victoria Park Lake on Wednesday 23 October.
12 Sep
Posted 12 Sep 2013
Notre Dame Year 12 VCAL class has spent a session a week at Reedy Swamp as part of their RiverConnect VCAL subject this year.
13 Jul
Posted 13 Jul 2010
During semester 1 2010 efforts were made to introduce students from Notre Dame College to the concept of Landcare. At their schools designated reach, Reedy Swamp, the students learnt how volunteers can make a difference through small, hands on projects, that protect the environmental aspects of our region, and how degradation over time impacts on our environment.