Schools take part in River Activities

News article posted on 3 August, 2015
RiverConnect held 28 school sessions since July this year with 10 different schools and 2 kinders. Seventeen of these sessions were tree planting during the cooler months.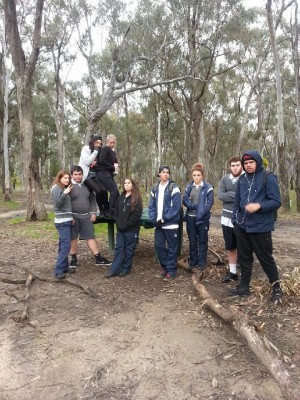 Shepparton High VCAL class has been out to the river weekly to do the RiverConnect VCAL program. They participated in activities such as tree planting, plant ID, rubbish collection, GPS work, a chat with a Park Victoria ranger, bush walk from Shepparton Weir to Reedy Swamp and litter management.
Shepparton East Primary school has joined in on the RiverConnect fun. The grade 3-4 students first had a classroom power point presentation about RiverConnect and the Greater Shepparton Green bin collection system (important link to caring for our environment). The next classroom session was about native animals - looking at the taxidermy collection and playing Biodiversity Twister. The student then had an outdoor tree planting session at Seven Creeks Estate, planting an amazing 113 plants.
RiverConnect and Jean, the council Waste Education officer presented to the entire Notre Dame College Emmaus Campus - Year 9 Programme in the form of a PowerPoint presentation all about RiverConnect, caring for the environment, and our local waste management/ compost facilities. This was followed by 6 planting sessions at various locations as part of their community service project.