Celebrating Water @ Victoria Park lake

News article posted on 21 October, 2014
Secondary School students met at Victoria Park lake on Wednesday 22 October as part of National Water Week 2014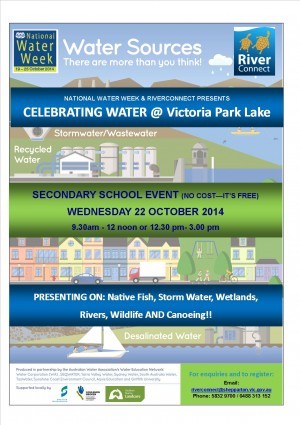 The theme for Water Week 2014 - Water Sources There are more than you think!
Sixty five Notre Dame students attended what is becoming an annual event for secondary school students. A day by the lake, learning about the local natural environment.
Topics covered were: Wetlands, Native Fish, Wildlife Awareness, Water Quality Monitoring. And just for fun - canoeing with River Country Adventours.
Quote from a teacher - "The students have all been very positive about the day and certainly see the lake in a different way now. They see it as not just a body of water but a home for fish and wildlife. It is a place or recreation and activity for people of all ages".
Thanks-you all the presenters who helped out on the day and to the students and teachers who attended from Notre Dame.