Life at the Lake - Secondary School Day 2016

News article posted on 21 March, 2016
Students from five local secondary schools took part in an environmental education day at Victoria Park Lake on Tuesday 22 March.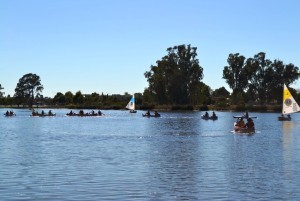 With perfect weather and sailing boats on the lake, it was a very picturesque day.
The students spent the day at the southern end of the lake learning about Native Fish from Fisheries Victoria, Storm Water monitoring - Landcare; Waste Education - Council's Waste Education Officer; Wetland ecology - Council's Native Open Space coordinator; Wildlife - Animals from Oz; and went for a paddle on the lake with RiverCountry Adventours.
Classes from McGuire College, Wanganui Park, Notre Dame, Berry Street and Shepparton Christian College attended on the day.
Its great to have different schools get together for a day out, learning about our local natural environment.