Mooroopna Primary School

Mooroopna Primary School's reach is located along the north side of the Goulburn River from the bridge on Watts Road downstream to the meander close to the Midland Highway.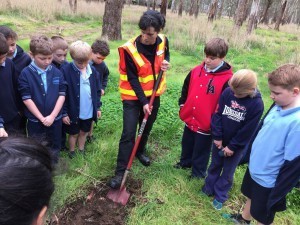 Please note: Although this information kit is currently out of date, most information is still relevant. Updated kits are currently in development.
1 Jul
Posted 1 Jul 2015
Ten schools have participated in tree planting sessions for National Tree Day this year.
25 Jun
Posted 25 Jun 2015
Mooroopna Primary School Year 3 students have been enjoying the outdoors at Chinamans gardens as part of the Adopt-a-Reach RiverConnect program.
19 May
Posted 19 May 2015
Six schools participated over two days in the annual Pest vs. the Rest Environment Day at Reedy Swamp.
1 Sep
Posted 1 Sep 2014
Shepparton High, Mooroopna Primary and ASHE have participated in Revegetation works this winter, 2014.
21 Aug
Posted 21 Aug 2014
Mooroopna Primary School Grade 5/6 students were at Chinaman Garden on Friday 22 August for lessons based on the Science Week 2014 theme: 'Food for our future: Science Feeding the World.
29 Nov
Posted 29 Nov 2009
The Grade 2 children at Mooroopna Primary School have been learning about the early history of Mooroopna during term 3.