News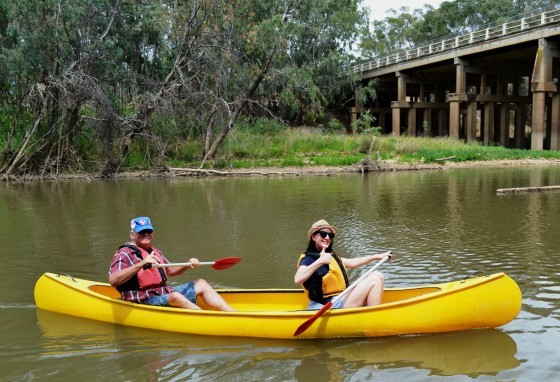 23 Dec
Posted 23 Dec 2022
At its December Council Meeting, Greater Shepparton City Council adopted the RiverConnect Strategic Plan 2023-2028 which outlines…
29 Jul
Posted 29 Jul 2021
We're proudly sponsoring the RiverConnect 2KM Kids Dash at the Shepparton Running Festival on Saturday 21 August.
31 May
Posted 31 May 2021
Learn about the cultural significance of The Flats between Shepparton and Mooroopna.
3 Feb
Posted 3 Feb 2021
Happy New Year all! In honour of World Wetlands Day and the 50th year of the Ramsar Convention yesterday, here's a digital brochure…
5 May
Posted 5 May 2020
We've added a new page that you can go straight to that will give you activities and projects that students can complete at home,…
12 Mar
Posted 12 Mar 2020
RiverConnect are partnering with Shepparton Camera Club, Kaiela Arts, Kyabram Bush Verse Group and Kaye Poulton for a wonderful Shepparton…
14 Oct
Posted 14 Oct 2019
Do you know the history of our beautiful Victoria Park Lake? What about the names of the birds and plants who live there? Or the importance…
2 Oct
Posted 2 Oct 2019
Get in early with an expression of interest to plant trees with us next year!
4 Sep
Posted 4 Sep 2019
RiverConnect present a series of outdoor activities from September to April. Find out more http://getmoovingshepparton.com.au/activities-in-the-park.html
19 Nov
Posted 19 Nov 2018
In July 2018, Parks Victoria published the River Red Gum Management Plan.
29 Oct
Posted 29 Oct 2018
Our friend Jacob Dedman created this wonderful bird identification tool for an assignment, with all of the photos taken by Jacob in…
30 Jan
Posted 30 Jan 2018
RiverConnect, with the assistance of Goulburn Broken Catchment Management Authority and Parks Victoria, has signed up to participate…
29 Jan
Posted 29 Jan 2018
On 24th August 2017, Zeerust Primary School joined RiverConnect for a day of activities spread out along the Goulburn River.
7 Jun
Posted 7 Jun 2016
McGuire year 11 VCAL students took part in tree planting along the Broken River on the 7th June 2016
21 Mar
Posted 21 Mar 2016
Students from five local secondary schools took part in an environmental education day at Victoria Park Lake on Tuesday 22 March.
26 Feb
Posted 26 Feb 2016
The Activities in the Park program, RiverConnect and artist Kim Carter joined forces to deliver a delightful art class out in the…
29 Jan
Posted 29 Jan 2016
Talking all things turtles along the Goulburn River.
16 Dec
Posted 16 Dec 2015
RiverConnect celebrated its 10th anniversary recently with canoeing, presentation and a BBQ lunch.
2 Dec
Posted 2 Dec 2015
Two classes from Wanganui Park Secondary College joined John Laing from Goulburn Murray Landcare Network on 2 December 2015 for a…
1 Dec
Posted 1 Dec 2015
Undera Kindergarten students have taken part in RiverConnect activities three times this last semester with a Native Animal Talk at…