Schools Plant Trees for National Tree Day 2015

News article posted on 1 July, 2015
Ten schools have participated in tree planting sessions for National Tree Day this year.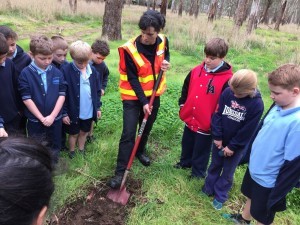 There have been 17 tree planting / revegetation sessions during the cooler weather in July and August, mainly along the Goulburn River in Shepparton and Mooroopna. Notre Dame Year 9 students have done an amazing 6 planting session at Brickworks Park off The Boulevard, Tassicker Reserve and the Australian Botanic Gardens Site. This has been a part of their Community Service Project.
Other schools participating in plantings were:
Wanganui Park S.C - Year 7
Shepparton High VCAL class
Mooroopna Primary school - Grade 3-4
Shepparton Christian College - Year 11
Shepparton English Language Centre
St Lukes Primary – Grade 5/6
Wilmot Road Primary
Undera Kinder
Shepparton East Primary – Grade 3 - 4
Every tree planted will make a difference for our local natural environment.