Shepparton High School

Shepparton High School's reach is located along the east side of the Goulburn River from Cemetery bend at Rudd Road and downstream to Wheller Road and the powerlines.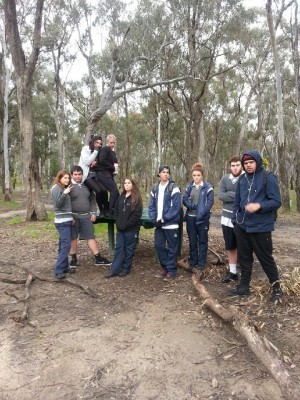 Shepparton High School has a RiverConnect VCAL Program
Please note: Although this information kit is currently out of date, most information is still relevant. Updated kits are currently in development.
1 Nov
Posted 1 Nov 2015
Following on from their sessions at the river, the VCAL students at Shepparton High have spent time back in the classroom reflecting on what they learnt.
3 Aug
Posted 3 Aug 2015
RiverConnect held 28 school sessions since July this year with 10 different schools and 2 kinders. Seventeen of these sessions were tree planting during the cooler months.
1 Jul
Posted 1 Jul 2015
Ten schools have participated in tree planting sessions for National Tree Day this year.
1 Sep
Posted 1 Sep 2014
Shepparton High, Mooroopna Primary and ASHE have participated in Revegetation works this winter, 2014.
20 Jun
Posted 20 Jun 2014
This semester McGuire College, Shepparton High, Wanganui Park S.C, Notre Dame College and ASHE have participated in the RiverConnect VCAL program
30 Apr
Posted 30 Apr 2014
Secondary School students from Shepparton High, Notre Dame College, Berry Street and McGuire College attended an Environmental Education event organised by RiverConnect on 1 May.
12 Sep
Posted 12 Sep 2013
Semester 2 this year, Shepparton High Yr 11 VCAL class have been spending time at their Reach along the Goulburn River - Shepparton Weir
31 Oct
Posted 31 Oct 2011
RiverConnect introduced the Shepparton High School Science staff School to John Caldow, the field officer for the Bug Blitz program. This program aims to reignite in students, the spark of discovery in Science by inviting them to participate in various biological projects and is sponsored by founder and philanthropist, O.E Wilson.
10 Apr
Posted 10 Apr 2011
Shepparton High school year 8 science students studied the unit 'Reach out to your River ' during Term3. We travelled to the SHS "reach" on the Goulburn River at Cemetery Bend (Rudd Rd) on six consecutive Fridays, to investigate the river and the Riparian Zone.
29 Nov
Posted 29 Nov 2009
VCAL students and teachers from Wanganui Park Secondary College, Notre Dame Secondary College, Verney Road School and Shepparton High School along with RiverConnect land management representatives, visited Reedy Swamp and Jordan's Bend recently to learn and see the activities the students from Notre Dame and Wanganui had been undertaking at their respective sites.