School revegetation programs 2014

News article posted on 1 September, 2014
Shepparton High, Mooroopna Primary and ASHE have participated in Revegetation works this winter, 2014.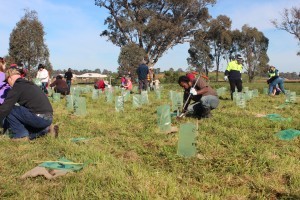 During Schools National Tree Day on 25 July the Mooroopna Primary After school Care took part in tree planting at their reach of the Goulburn River - Chinaman Garden in Mooroopna. The 12 students with their teachers planted 30 understorey species amongst the River Red Gum trees. They were a great planting crew and the shrubs are looking very healthy two months on.
Shepparton High Year 10 and 12s under teacher Mrs Kate Peachey have been doing revegetation work at Shepparton Weir (near the Shepparton Cemetery) and on their school ground. Over three sessions they planted out 96 native shrubs. This is no mean feat with the hard ground in the River Red gum / grey box bushland. The students scooped water from the mighty Goulburn River to water the plants.
ASHE students have been working with Greater Shepparton City Council Coordinator of Native Open Space, Paul Dainton to revegetate at Tassicker Reserve off Kittles Road in Shepparton. Over two sessions, they experienced planting in Grey box grassland and then in a wetland depression – quite different species and much easier digging in the wetland.
Thanks to all the students from Mooroopna Primary After School care, Shepparton High and ASHE for making a difference to our local environment by planting a tree(s)!