Grade 5 /6 students have Fun at Reedy Swamp

News article posted on 19 May, 2015
Six schools participated over two days in the annual Pest vs. the Rest Environment Day at Reedy Swamp.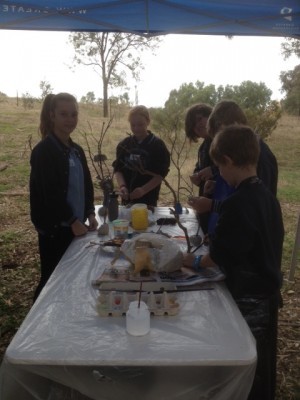 Check out a clip from the day on You Tube or Facebook (0:40min).
Pest vs. Rest Environment Days offers Grade 5-6 students and their teachers the opportunity to participate in hands-on environmental activities that are curriculum focused. On the day the students participated in six activities based on Biodiversity, Waste, Indigenous history and Water. Students were also encouraged to participate in a Rubbish Free Lunch on the day.
The event was run over two days this year to allow more schools to participate. Both days were great fun with lots of variety in the presentations and the 160 students who attended with their teachers, enjoyed themselves.
On Tuesday it rained on and off, however the students from St Mel's Leadership group, Murchison primary School and Mooroopna primary school were in high spirits. They did really well staying dry under the marquees and focused on the many activities.
By Wednesday the rain had cleared up and St Lukes, Currawa and Tallygaroopna Primary Schools enjoyed their day of learning.
Martin Lagerway, our entomologist from Martins Butterfly World made a Reedy Swamp Environment Day page on the BowerBird website and loaded some bug images from what the students had collected, for everyone to see.
(Bowerbird, built by Ken Walker of the Museum of Victoria is a data gathering website for citizen scientists such as you or I. We can share any wildlife observations and these will be uploaded to the Australian database, called ALA (Atlas of Living Australia).
Graham Stockfeld from Turtles Australia Inc. along with his helper Rolf Weber brought along their live turtles (adults and babies) for the students to look at and hold. They have also got a recording on Bowerbird - The sighting of a dead eastern snake-neck turtle found by one of the students at Reedy Swamp.
Jean Young, the Waste Education Officer at Greater Shepparton City Council lead a session on Waste Education - Recycling relay.
Lanie Pearce from Goulburn Murray Landcare engaged the students with a activity on identifying native Bird Calls.
Hilda and Greta form Parks Victoria showed the student's tools and skills the aboriginal people used to hunt and prepare food.
Kim Carter from Kim Carter Textile Art had the students looking and thinking about nature in a different way - by creating a virtual forest.
Thank you all, teachers, presenters, students and helpers, for being a part of the Pest vs. Rest Environment Education Day 2015.
We hope you can join us again next year!!