River Walk and Roving Activities

News article posted on 29 January, 2018
On 24th August 2017, Zeerust Primary School joined RiverConnect for a day of activities spread out along the Goulburn River.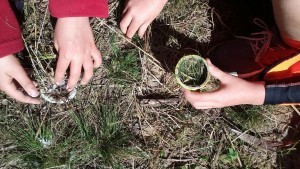 Beginning at the rear of Victoria Park Lake, students first learned about the lake, its history, and how it has been transformed into a great space which blends water treatment, public amenity and habitat in the one place. After an introduction to the types of animals, birds and plants we might see on our walk, we set of to walk from the lake around to the confluence of the Goulburn and Broken Rivers, then onwards to Kalinga Park. Along the way we stopped to do a number of activities which RiverConnect Education Officer Allison had managed to fit in her backpack, which helped the students learn about how pollutants can reach our waterways and the impact this can have, the need to protect river habitat, and different ways we can care for our rivers. Once at Kalinga Park, we learned about habitat for birds, made our own birds nests to take home, and learned how different birds eat according to the different types of beaks they have. The 'hungry birds' game complete with lollies was a hit!
If you are interested in doing a similar activity along the river with your students, give us a call to discuss what might suit your needs.