Art Along the River at the Shepparton Australian Botanic Gardens

News article posted on 26 February, 2016
The Activities in the Park program, RiverConnect and artist Kim Carter joined forces to deliver a delightful art class out in the open at the Botanic Gardens on 27 February.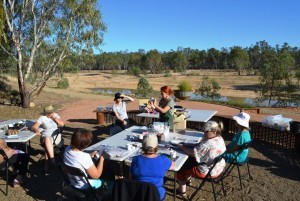 It was a lovely warm Saturday morning spent at the Botanic Gardens.
The participants were treated to an art class of a different sort - making small mixed media landscapes using mostly recycled fabrics and papers. There was painting, glue, and even some hand stitching involved. Recycled material included upholstering samples, old wallpaper, teabags and baking paper.
Some basic technique were covered in planning a landscape work using perspective and colour. The participants did painting on different surfaces as backgrounds (textiles and different types of papers) then layering them and arranging them to form landscapes.
The final products looked great and it was amazing to see the process taken to get there.