RiverConnect 10 year Celebration Event

News article posted on 16 December, 2015
RiverConnect celebrated its 10th anniversary recently with canoeing, presentation and a BBQ lunch.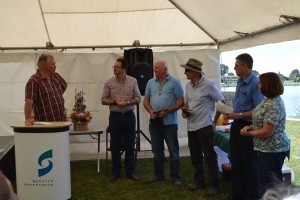 RiverConnect members, past and present, gathered at Western Park (Victoria Park Lake) recently to celebrate 10 years of RiverConnect.
Some took the opportunity to enjoy a gentle canoe paddle down the Goulburn River, before joining approximately 40 others to celebrate the achievements of the annually funded program.
Since its inception, RiverConnect has achieved many significant milestones, which speakers Lisa McKenzie, Cr Dennis Patterson and Chris Norman highlighted after a traditonal Welcome to Country smoking ceremony from Aunty Ella Anselmi. The projects success was attributed to the ideal of the RiverConnect idea - connecting people to the Rivers, and the joint partnerships between agencies, organisations and community.
RiverConnect has had many invaluable members who've dedicated many hours and shared endless amounts of knowledge however, two members have remained heavily involved since the projects inception. Rod McLennan and Bruce Cumming were acknowledged for their enormous contributions to the RiverConnect project for the past 10 years.
Thank you again to all those who have contributed to the sucess of RiverConnect and we look forward to another 10 years!