VCAL students hard at work
News article posted on 25 June, 2015
Wanganui Park Secondary College VCAL group have been busy at Jordan's Bend this term lacquering the picnic benches, chopping weeds and doing revegetation work.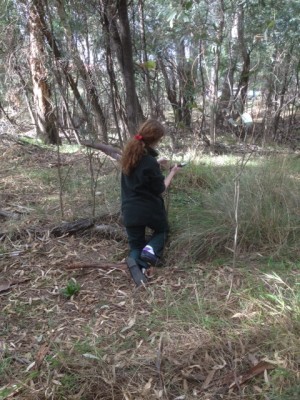 The VCAL student with their teacher Mr Bristol have been hands-on with different activities at their 'Reach', helping to keep our natural environment healthy.
Weeding: Moth Vine, otherwise known as White Bladder Flower (Araujia sericifera) is growing rampant at Jordan's Bend twisting its way up the River Red Gums and Silver Wattles. The students got down on their knees cutting the vine off the young sapling trees and chopping it out the ground with shovels.
Bench maintenance - the picnic benches were installed at Jordan's Bend by previous VCAL students. In need of maintenance, this year's group got busy sanding back and then lacquering the bench and table tops. Thanks to Parks Vic for providing the lacquer!
Back at the Wetland adjacent to Wanganui park Secondary College, the VCAL students spent their last session planting Common tussock grass (Poa Labillardierei) and Sedge (Carex sp.) along the edge of the water. In clumps of 4-5 the grasses and sedges will happily grown and spread, providing much needed groundcover for the banks for the wetland.