St Mary's Mooroopna Update

News article posted on 17 June, 2008
On Thursday 18 June the children from Grade One/Two St. Mary's Mooroopna, visited Douglass Park for an excursion as part of their unit of study: 'How do we look after living things?'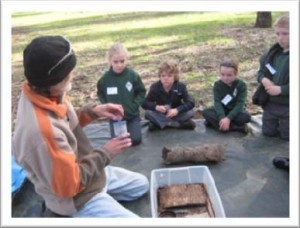 The day was facilitated by Wendy D'Amore, Dhurringile and district Local Area Plan Coordinator in conjunction with Goulburn Murray Landcare Network, who brought with her three other facilitators to run workshops.
The workshops included: Jonti the Glider and the food web: Mini Beasts: Wetland Wander and Murray the Fish and the Urban Stew. The children experienced many 'hands on' activities teaching them about pollution, taking care of mini beasts and other animals and caring for our environment and the animals that frequent it. The children thoroughly enjoyed the activities. Our thanks to Goulburn Murray Landcare Network.
OUR EXCURSION
Written by Bridgie Ryan
On Thursday the Grade 1 /2's went to Douglass Park. John showed us mini beasts. Dani showed us squirrel gliders. Wendy took us for a walk to Gemmill's Swamp. Kristie told us about storm water. I had a great time. Isaac helped me to get over my fear of spiders.