Shepparton High School "Reach out to your river"

News article posted on 10 April, 2011
Shepparton High school year 8 science students studied the unit 'Reach out to your River ' during Term3. We travelled to the SHS "reach" on the Goulburn River at Cemetery Bend (Rudd Rd) on six consecutive Fridays, to investigate the river and the Riparian Zone.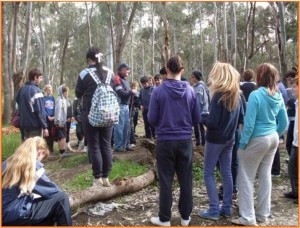 Our first visit provided a general overview and a special look at a cross-section from the water's edge to 400m inland. We noted the type and range of vegetation and evidence of human activity with a highlight being a visit to the scar tree. The students noted and photographed native plants and weeds and considerable rubbish dumping. Mr Royce Dickson from the Shepparton Mooroopna Landcare group accompanied the groups.
The second visit was specifically to observe and explain the fish ladder using documentation from GBCMA. Fish species, breeding and tagging were explained. John Pettigrew (environmentalist) accompanied us and spoke about flood levels and possible old courses of the river.
Our third visit had two themes- One group investigated the animal occupants with naturalist, John Laing, (from Goulburn Murray Landcare Network) who concentrated on the types of animals that inhabited the area in the trees, soil and hidden in the vegetation. The other group previewed water statistics with Danielle Beischer from G.V. Water WaterWatch.
The fourth visit was with the Indigenous rangers Greta Morgan and Hilda Stewart who spoke about the Yorta Yorta people as Traditional custodians of the land.
The fifth and sixth visits were with GV Water educators Kristy Elrington and David Hodgkins who helped students assess the river water quality using chemical tests and assessing the type and frequency of macro invertebrates present.
Our final visit was to the Waste Water Treatment Plant in Daldy Road where Kristy again conducted an information session on why we treated the waste water, what it contained, how it was treated and where it was finally dispersed to.
Back at school, in their review period each week, the students documented their river visit in print and in picture and completed appropriate worksheets.
Student feedback was very positive and showed the value of such a program…..
"It was good. The activities were interesting and we got to see and know more about the wildlife and nature in connection to the river." Brooke

"It was enjoyable going down and looking at the river and meeting my aunty there as the indigenous ranger." Wilfred
The project was appreciated as something completely different and enjoyed by all students.
Pauline Pettigrew (SHS Science Teacher)