RiverConnect visits Undera Kindergarten
News article posted on 29 September, 2015
Undera Kinder have helped beautify the town by planting trees at the local Recreation Reserve with RiverConnect and members from the Undera Landcare Group.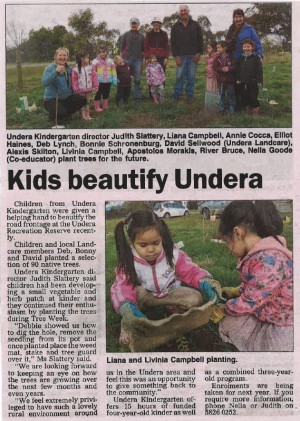 RiverConnect visited the kinder in early July where the children learnt about the native animals that live in our local bushland. They looked at the Landcare collection of taxidermy animals and talked about how important trees are for these animals to live in.
Later in July the children joined RiverConnect and Undera Landcare members to plant trees along the front of the Undera Recreation Reserve. The worked diligently and got 90 plants in the ground. It was a lovely day and lots of fun.