Poetry pathway Walk and Morning Tea 29 Oct 2013

News article posted on 28 October, 2013
Guthrie Street and St Luke's Primary School students gathered out the front of the Shepparton Art Museum on Tuesday 29th October to celebrate the Poetry they created during the Annual Pest vs Rest field Day at Reedy Swamp in May.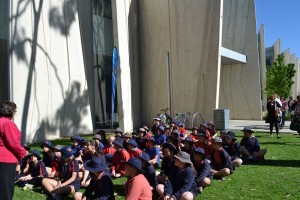 The student's poems are on display on the wall space between the Shepparton Art Museum and Council Customer Service and twelve are along the footpath out the front of the council offices heading west down Welsford Street.
Mayor Jenny Houlihan warmly welcomed the 48 students,their teachers and parents. Robyn Black from GV Writers group congratulated the students for their great poetry, then everyone walked along the footpath with the students from Guthrie St and St Lukes Primary School reading out their poems to the group.
The event finished with morning tea in the Eastbank centre.
Big thanks go to our Robyn Black from the GV Writers Group for her help with the poetry and to BugBlitz for their ongoing support of the Pest vs Rest field day and this follow up event. The two schools involved this year- St Lukes and Guthrie Street- thank-you, students and teachers!