New Interpretive signage at Boulevard Bush Reserve

News article posted on 22 October, 2015
The first suite of local species interpretive signage has been installed at Boulevard Bush Reserve.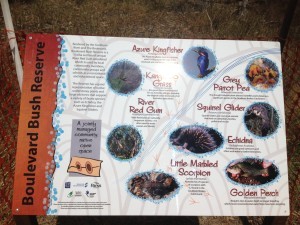 The signage features local flora and fauna species that can be found within Boulevard Bush Reserve.
Two entrace signage boards highlight 16 species which are featured on smaller trail markers located along the internal track. Six of these species have been showcased thus far, with the remaining 10 to be installed next financial year.