National Tree Day 2015

News article posted on 8 August, 2015
Locals and visitors plant for National Tree Day.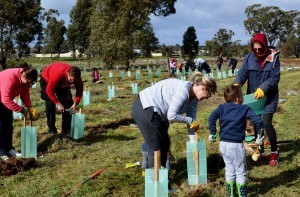 Greater Shepparton City Council hosted nearly 60 people as part of National Tree Day on 26 July 2015.
Families, locals and visitors braved the chilly winter weather to be part of the national event that saw over 600 plants planted along Tassicker Reserve in north Shepparton.
After a morning of planting, watering and hammering in stakes, participants enjoyed a warm BBQ lunch.
Thanks to all who volunteered their time on the day.