Inventions and Technology at Reedy Swamp

News article posted on 20 October, 2015
St Brendan's Primary School Grade 3 and 4's ventured out to Reedy Swamp on 20 October to learn about the natural environment based on the theme Inventions and technology.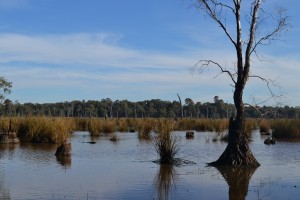 The students learnt from presenters from different organisations, about inventions and technology used to monitor the natural environment. These were:
- Water sampling equipment and the importance of monitoring the health of our water ways - GV Water, Water Watch Program
- Bug-catching equipment, microscopes and cameras to view macro-invertebrates up close - Goulburn Murray Landcare
- GPS units to take the location reading of special features in the bush and plot on a map - RiverConnect
- App on the I-pod to learn and identify different bird calls - Goulburn Murray Landcare
- Waste Management technology such as the recycling bin system and the new Green bins with all our organic waste being treated at Western Composting - Waste Education Officer, council.
It was good awareness raising for the students to understand the importance of technology in the natural environment. It was also great to have the St Brendan's students out again for their annual Reedy Swamp Ramble.