Fish Release at Victoria Park Lake
News article posted on 20 March, 2015
Verney Road Students helped release Golden Perch at Victoria Park Lake on Friday 20 March.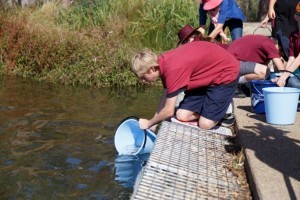 The students bucketed 5000 Golden Perch from the fish truck on Tom Collins Drive to the lake at Western Park (near the All Abilities Playground).The fish, just a week old were very small.
Mat Innes-Irons from Shepparton Show Me joined in on the fun and students enjoyed chatting and releasing the fish with him. it was a memorable event, enjoyed by all who joined in.
Watch the event on this YouTube clip found on the Greater Shepparton Council Facebook page.
The fish release made it on to Win News and Weeknights.