DEPI Fish release attracts crowds

News article posted on 30 September, 2014
More than 150 students participated in a Rainbow Trout fish release at Lake Bartlett in Tatura and Victoria Park Lake in Shepparton with RiverConnect and Fisheries on Wednesday 17 September 2014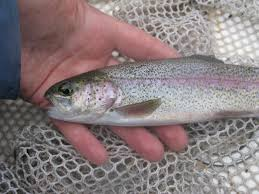 RiverConnect along with Fisheries officer Anthony, from the Department of Environment and Primary Industries in Tatura, invited students from Tatura Primary school and Verney Road School to help release rainbow trout into the lakes ready for fishing opportunities over school holidays.
Three Grade 3-4 classes from Tatura Primary helped release 100 fish into Lake Bartlett, followed by an information session about the DEPI fish breeding program. The students were most helpful releasing the splashing fish one at a time and asked lots of great questions during the information session.
At Victoria Park lake shortly afterwards, approximately 100 students and 30 staff were ready and waiting to release a mighty 500 fish. Every single fish was released one, two or three at a time in multitudes of plastic buckets. One lucky little guy even got 4 fish in his bucket in one go (after persistently requesting)! J
The production line - collecting returned buckets, filling with water, then the fish, then handing them back to the willing hands lined up for their turn was most hectic, wet and fun.
Thank- you to the media who attended to capture the moment, to Tatura Primary Grade 3-4 students and to the entire Verney Road School students with their staff for coming along for a great morning out. Thanks Fisheries officer Anthony for sharing this fun event with us.