Cultural Talks

News article posted on 16 November, 2015
Over 30 locals recently experienced the Flats with a guided tour from Uncle Leon Saunders.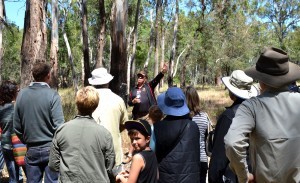 The weather was perfect for a wander through the area known as "the Flats" which is located on the southern side of the Peter Ross Edwards Causeway.
Locals and visitors young and old joined Uncle Leon Saunders on a heartfelt journey of life living on the Flats and significant milestones in recent Aboriginal history.
"The day was both enjoyable and made a lasting impression on each of us" - Participant testimony.
Participants then enjoyed a traditional bush tucker lunch out on the Flats whilst taking in the calm of the bush surrounds.
Thank you to all involved, especially our wonderful guide, Uncle Leon.