Bird Walk at Australian Botanic Gardens, Kialla

News article posted on 10 October, 2015
The annual RiverConnect Bird Walk took place on 10 October 2015 at the Australian Botanic Gardens.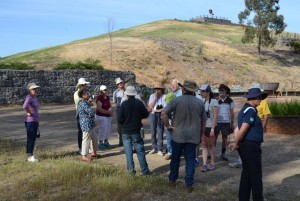 Fifteen people attended the walk at the Botanic gardens as part of the Activities in the Park program. The morning concluded with friendly chatter over morning tea back at the southern side of Honey Suckle Rise.
Jill from Friends of the Botanic Gardens hosted us by unlocking the gate and toilets and talking with the participants about the works that are taking place at the gardens.
Members of Bird Life Murray Goulburn, Don and Graham let the walk around the property. We went along the eastern side towards the Broken River, then along path through the bush at the northern end. The group walked then along the north side of Honey Suckle Rise past the weaving garden.
It was a pleasant day. Lots of different bird species were seen and heard. Thanks go to Don and Graham for leading the walk and to Jill for making us feel very welcome there.