Ardmona Primary School visit Reedy Swamp

News article posted on 24 November, 2015
Students from Ardmona Primary School enjoyed a morning at Reedy Swamp on 24 November 2015 to learn about life at the swamp.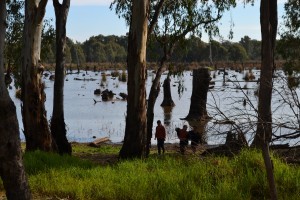 The twelve students from Prep to Grade 3 did a guided drawing activity on butcher paper 'Reedy Swamp, a Special Place' to learn about the different features of the swamp - the wetland, the land, flora, fauna and visitors. The key message was on Sustainability - Wetlands are a special place. We like to enjoy them and look after them.
They then went on a nature walk with RiverConnect, using the Parks Victoria activity sheets - Junior Ranger and Wetland Detective to find features and objects along the way.
The second activity for the morning was looking at macro-invertebrates with GV Water, Water Watch program.
The students enjoyed hearing from Danielle about the importance of the water being clean and healthy and how this can be monitored by looking at the water bugs that live in there.
They then searched through trays of water collected from the swamp, looking at all the interesting Aquatic creatures to be found in there from freshwater snails to caddis fly larvae, blood worm to dragonfly larvae.
It was a lovely day out and so nice that schools in Greater Shepparton can come and spend time at the very special Reedy Swamp right on the fringe of the urban centre of Shepparton.