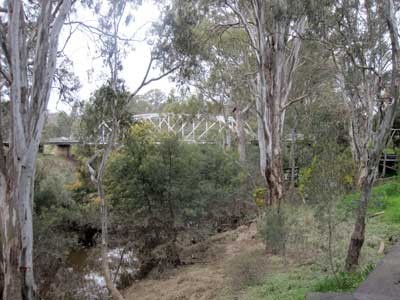 Murchison
A punt service, which enabled people to cross the Goulburn River, was established in 1850. This was largely used by gold miners traveling between the Bendigo and Beechworth gold fields. The rates were one shilling for a person and five shillings for 100 sheep.
A timber bridge replaced the Marie's punt service in 1871.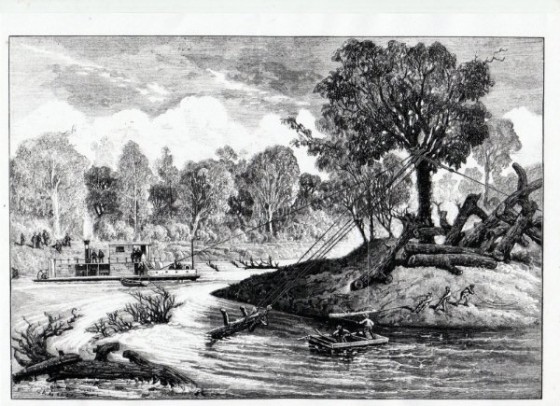 Paddle Steamers in Murchison 1878 (Murchison Historical Society)
The town benefited greatly from the river trade which began with the arrival of the first paddle steamer in 1875. At that time, Murchison had six hotels, a number of general stores, two flour mills, a post office, a sawmill, cordial factory, two blacksmiths and numerous other stores and services.
The building of the Goulburn Weir from 1887-90 dropped the water level and so finished off the dying river trade.
In 1937, the old timber bridge was replaced by a new steel bridge which is still standing today.
"Disastrous Flood in Victoria" Melbourne March 19, 1950
"A bus load of 25 persons bogged down in three feet of water on the main Melbourne-Shepparton road and passengers made a midnight escape through the bus windows into the floodwaters. Two farmers narrowly escaped drowning when a raft they had constructed to rescue sheep overturned in deep swirling water"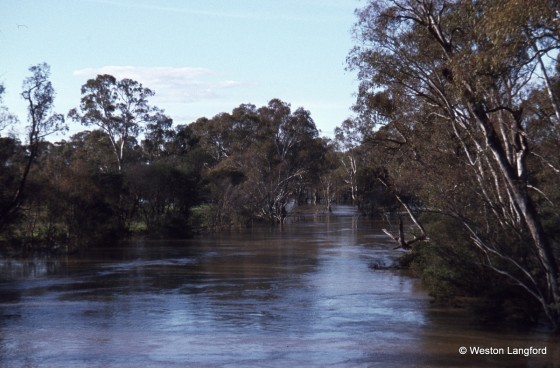 Goulburn River in flood 1975, viewed from Railway Bridge.
Fact
The Goulburn is the longest river in Victoria at 570km.