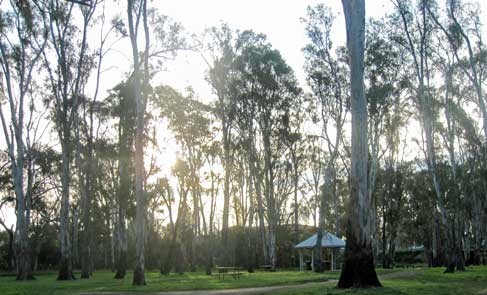 Chinamans Garden
Ah Wong, a Chinese immigrant, set up a market garden, selling vegetable produce to Mooroopna and surrounding residents. Chinaman Garden Reserve is the site of this former vegetable garden and provides views of the Goulburn River.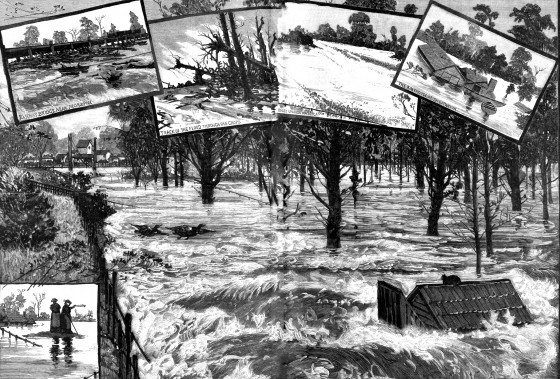 Sketch from 1889 Floods
Main sketch - Flood water near Shepparton
Top left to right sketches - Raiway Bridge Near Mooroopna, Track the flood through the crops, Barley under water, The boathouse at Shepparton.
Bottom left sketch - An incident involving two women.
History
The Argus Tuesday 13th August 1889
FLOODS AT MOOROOPNA.
(BY TELEGRAPH FROM OUR CORRESPONDENT)
MOOROOPNA, MONDAY.
Heavy rain fell yesterday, and in the afternoon there was a hailstorm of great violence, accompanied by a very high wind. The river rose 5ft. on Saturday and 3ft. yesterday, and is still rising fast. The road to Shepparton is again flooded and almost impassable, and traffic is carried on with the greatest difficulty. Yesterday morning two ladies, residents of Mooroopna, drove over to Sheppaton, and were seen returning in the afternoon. At dusk they had not arrived at Mooroopna, and as the river was rising very rapidly and flooding the road fears were entertained for their safety, and it was decided to despatch a search party early this morning. Fortunately, however, this was unnecessary, as the ladies arrived safely, having had a very trying experience in coming through the floods. A Chinese market gardener, in attempting to cross this morning with his cart nearly lost his life. He clung to his cart until he was rescued some three hours afterwards by some persons in a boat. The cart and horse were carried down the torrent, and the horse was drowned.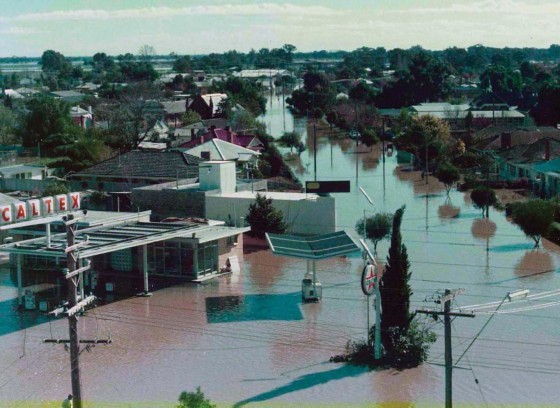 McLennan St Mooroopna, 1974 Flood.
Fact
The Goulburn River is one of Victoria's four Heritage Rivers under the Heritage River Act.