Canoeing on the Goulburn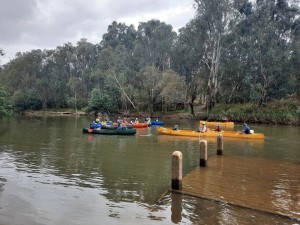 Join RiverConnect and the Shepparton Canoe Club for a guided paddle down the Goulburn River on Sunday 8th May 2022.
Morning session 9:30-11:30 from Kaieltheban Park Mooroopna to Daintons Bridge Shepparton.
Afternoon session 1:30-3:30 from Daintons Bridge Shepparton to Jordans Bend Shepparton.
Family friendly and free, and if you bring your Mum we will organise a special 'Paddle Pamper' pack for her.
Registration essential, email riverconnect@shepparton.vic.gov.au or phone 5832 9700.